4:46 pm
John Cena is the mothaf***kin' MAN!!!
Like ok so I have a new celeb crush (i'm sry Gackt) and his name be JOHN CENA lawd is he a hott piece and I'm an on and off wrestling fan but Cena has me hooked and.....he raps too(and doesn't suk) I'm gonna get my Spencer's card go to the mall and buy nothing but John Cena and Playboy merchandise(I saw this playboy overnite bag *squeals*) this will all be decor for my dorm when I move out-i love saying "move out"- also I can wait for the day after graduation(saturday) when I get my nose pierced....
Some eye-candy for tha ladies: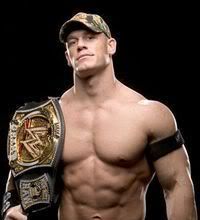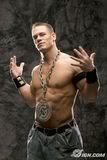 "YOU CAN'T SEE ME!!" - JOHN CENA
10:38 am
A Typical Girl's Dream
Yeah I know this is gonna sound corny but....DAMN IT!! I WANNNA FIND TRUE LOVE! I know this lack-of-boyfriend is MY fault because I'm not an outgoing person so I DO need to go out more, I would love someone who was smart, handsome, funny, polite, has a great sense of style, and down-to-earth. Unfortunatelly there are no such men in my area but the good news is I'm young and will be going to college soon there are plenty of good looking men in Tuskegee in fact : All of my mother's friends who went to TU met their husbands there.....and they are STILL married to them!!! So there's hope for me yet =) just gotta keep my head up....really high. lol
Current Mood:
flirty
11:17 pm
It's been a While
Wow, I haven't really posted on my journal I guess because I'm not that interesting LOL. Anyways, let me update you on me:
I'm getting green contacts b/c I want something gal but not over the top
I'm going to Tunica,Mississipi next week to chill and have fun(will take pics)
I'm planning on going to Tuskegee University to check out the campus
I'm starting to do more techpara and getting better at it
I'm in Deutante training and will have my ball in Novmember 17th
*i'll show you the before/after pics of my eyes later*
Current Mood:
silly
10:29 pm
Konnichiwa I'm New!!
My name is Ashuri-tan any body on ricoche.net know me as popteen I have been a ganuro since July 2006 and I'm in the gyaru-cir Oishiimix. I just turned 17 two weeks ago and I hope to make new friends lol.
my myspace is:
http://www.myspace.com/glamfashun
Current Mood:
bouncy